15 Hour Course
What you will need for the riding portion of the class:
Shoes or boots that cover the ankle
Long pants
Long Sleeve shirt or jacket (light colors are best we are here in sunshine)
Full fingered gloves
Eye protection (eye glasses or sunglasses are fine)
DOT approved Helmet ( we can provide one for you )
If rain is predicted your own rain gear
Sun Screen if you need it
Motorcycle and fuel provided
Qualifies graduates for motorcycle endorsement in the State of Florida, and many other states.
Qualifies graduates for insurance premium discounts with some motorcycle insurers.
The Basic Rider Course is aimed at beginning riders of all ages and all skill levels. A minimum of five hours classroom instruction prepares the student for at least ten hours of practical riding in a controlled, off-street environment. Motorcycles and helmets are included in your course fee. Motorcycles used in the course are well maintained training bikes.
In this course, you'll learn how to operate a motorcycle safely, with a lot of emphasis on the special skills and the mental attitude necessary for dealing with traffic.
Our RiderCoaches are nationally certified by the Motorcycle Safety Foundation, and "recognized" by the State of Florida Department of Highway Safety and Motor Vehicles, Florida Rider Training Program. They'll start you off with straight-line riding, turning, shifting and stopping. You'll gradually progress to cornering, swerving and emergency braking. In the classroom you'll learn about the different types of motorcycles, their controls, and how they operate. The RiderCoaches, all experienced motorcyclists, will advise you on what to wear for comfort and protection. You'll find out how alcohol and other drugs affect your ability to ride safely. A very important segment of the course will show you how to create your own strategy for riding in traffic, and dealing with critical situations. The course concludes with a knowledge test and skill evaluation. You'll smile with satisfaction as the RiderCoach hands you the course completion card.
Get a Head Start! View Course Materials Here, courtesy of the Motorcycle Safety Foundation!
Basic RiderCourse Handbook (Non-printable)
Basic RiderCourse Handbook - Spanish (Non-printable)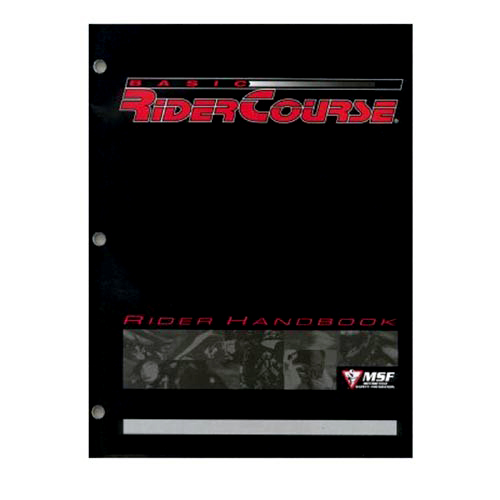 What Our Students Say About Us
Take MSF's Motorcycle Challege!
Motorcycle Safety Information & Tips
Take MSF's RiderCourse Review!
"Learn to ride with the Professionals, while earning your Motorcycle Endorsement!"
Starting January 1, 2010: New Florida Driver License Requirements - Click Here!